Atomized spherical magnesium powder
Atomized spherical magnesium powder is a high-performance metal powder industrially produced by our company for the first time in China with its own patented technology. It has been widely used in defense, polyolefin catalyst, high-end welding materials,high-purity metal reducing agent, Grignard reagent, 3D printing, Mg-based hydrogen storage alloy and other fields. It has solved the problems of low purity, poor fluidity, small bulk density, high moisture absorption rate, poor stability and reproducibility of the traditional mechanical magnesium powder. After years of development, the atomized spherical magnesium powder is becoming more
and more perfect and has been sold well in China and more than 20 other countries overseas.
Advantages
● regular particle shape ● high Proportion of Sphere ● large bulk density ● good fluidity ● high active magnesium content
● low moisture absorption rate ● good stability ● high reproducibility
Product information
Atomized spherical magnesium powder
silver gray spherical powder
0.5-5kg/bag or 50-200kg/drum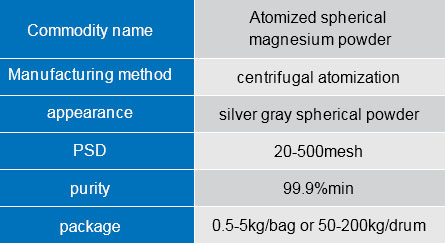 Performance parameters(50-100mesh as an example)
Moisture absorption rate /%
Insoluble material in HCl /%(max)
Storage & transportation information:see MSDS.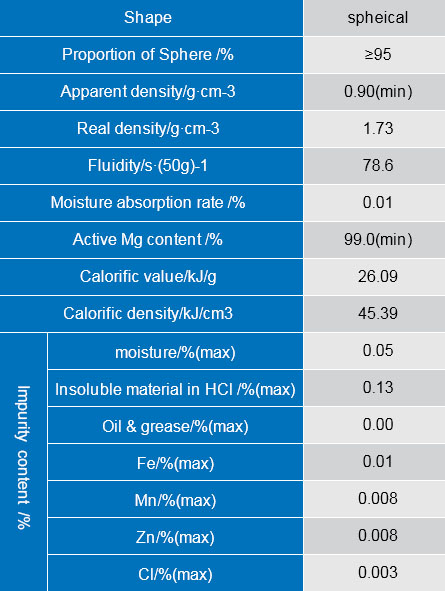 Storage & transportation information:
see MSDS.